LH-230(26V 230Wh)Li-ion battery, high power battery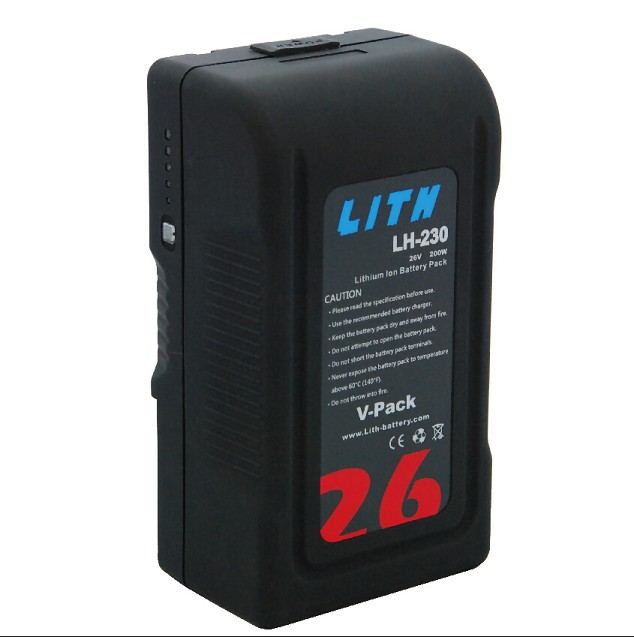 The new developed 26V Li-ion battery is specially designed for the high voltage film cameras like Arri Alexa or Phantom series and other equipments that also require high voltage.
The battery is featured "high discharge rate"which can withstand very high levels of current without damaging the cells.
Due to the high drain properties, it has proved to be more robust than conventional li-ion
battery packs in terms of life cycles when exposed to high duties.
Compared to the traditional 14.4V li-ion batteries, the 26V Li-ion battery is not affected by hight current so the lifespan is greatly increased.

Specification
| | |
| --- | --- |
| Voltage | 26V |
| Capacity | 200Wh/8.7Ah |
| Max Output Current | 30A |
| Max Input Current | 5A |
| Mount Type | V-Mount/Gold Mount |
| Operation temperature | -30°C ~+55°C |
| Net Weight | Approx 1.30kg |
| Dimension | 165x88x62mm |
Contact Us

Tel:+86-25-52 419 958
Fax:+86-25-52 418 540
E-mail:sales@lith-battery.com
Address:B5-1 HONGSHAN CREATIVE FACTORY INDUSTRIAL PARK HUANGJIAWEI ROAD 41-1, NANJING,210028,P.R.CHINA